Container Pricing: (NOTE: We are currently out of inventory for New and Used Shipping Containers)
(Covid 19 greatly reduced the manufacture of new containers to replace the used containers, causing the shortage and the price increases in red below)
New Orleans Depot
40ft DV(8.5ft high) or HC(9.5ft high)

One Trip(New): $5200

($7400)

Used, Wind and Water Tight: $2600

($5400)

20ft DV(8.5ft high)

One Trip(New): $3200

($5200)

Used, Wind and Water Tight: $1800

($3200)

Other Fees

Delivery: ~$200 to $400, depending on distance
Tax: 9.45%
No Credit Cards

Visiting and Choosing a container onsite is highly recommended!
So you want a Shipping Container?
What makes shipping containers so appealing?
DIY- Do It Yourself

Place and Stack like children's blocks
Cut out the contractor
Create your own business niche
Lower your carbon footprint

A Premade Structure

Wind and Water Tight
Corrugated Steel Pattern
Industrial Strength and Look
Recyclable/Repurposable

Modular

Deliverable
Stackable
Modifiable
Cost Effective
Reasons for wanting a Shipping Container?
Storage

A used shipping container can be purchased for approximately the same as one year at a storage facility
Shipping containers are designed for ocean voyages and therefore offer protection from the elements
The steel structure of a shipping container is a theft deterrent and very secure

Dwelling

The design and structure of a shipping container offers a maximum usable interior space
Shipping containers are designed to be stacked offering the option of creating multi-level dwellings
What are the realities of Shipping Containers?
Used vs New Shipping Containers

A used shipping container is about half the cost of a new shipping container
Used shipping containers are dented with a high probability of holes/leaking and contaminant residue from shipping usage
New shipping containers have a complete inner and outer coating with no previous owner markings, dents, rust, etc.
New shipping containers offer a variety of consumer amenities such as waist high door handles, lock boxes, extra venting, doors on both ends, etc.
Note: New shipping containers are actually called 'One Trippers' and have performed at least one freight load to pay for transport

Modifications

Once a cutout larger than 2ft x 2ft on any of the side panels is performed, the vertical stability of the walls/rails decreases to the increase of the cutout
Shipping containers require a steel craftsman for welding/fitting, torch/plasma/abrasive cutting, etc.
Likewise, Industrial metal preparing and coating requires a similar sandblasting and painting craftsman
Deconstruction with the added new construction can roughly double the labor involved

Insulation

Steel is an excellent thermal conductor- the temperature inside the container can be much colder or hotter than the exterior temperature
The stability of the interior climate is greatly enhanced with proper temperature shielding on either interior, exterior or both
Likewise, insulation is a must for climate control systems

Utilities

Plumbing is usually difficult when trying to meet code for shipping container dwellings and is moderately hindered by the steel corrugated walls and subfloor cross members
Electricity is not as difficult when trying to meet code yet it may require added protective conduit
Mounting, plumbing and venting solutions are required for HVAC systems

Logistics

Delivery of shipping containers are performed by tilt bed trucks such as a tow truck for 20ft or a Landoll for 20ft and longer containers. A 20ft shipping container delivery via a flatbed tow truck is less than the cost of 40ft+ delivery vehicle
Delivery by flatbed trucks without tilting capabilities requires a forklift or crane for removal. Important to note that 9.5ft tall shipping containers cannot be transported on a standard 4.5ft tall flatbed because the overall height would exceed 13.5ft- a step deck flatbed would be required
Shipping container placement is limited by the tilt delivery trucks- the longer the shipping container the more limiting
Exacting placement and stacking also requires lifting capabilities such as a forklift or crane

Size

All shipping containers are 8 feet wide
Standard shipping containers have two heights, 8.5 feet and 9.5 feet- the later more so with 40ft or longer shipping containers
Standard shipping containers have a variety of lengths- 10ft, 20ft, 40ft, 45ft, 48ft and 53ft. The most common are 20ft and 40ft
Are shipping containers right for your project?
Placement

As a rule, shipping containers without structural modifications only need to be supported at the four corners preferably 6 inches or higher to prevent standing moisture and rodents from housing in the floor cross members. Likewise, enough room should be allowed for sub structure plumbing
Tilt Bed delivery of shipping containers is limited to access, maneuverability, height and ground conditions. Cranes are required for exact positioning and stacking
Shipping containers should be stacked corner casting on top of corner casting. Juxtaposing a shipping container on another by placing a corner casting on a main rail, top or bottom, will most probably result in structural failure

Practicality

Shipping containers are designed to open, close and lock from the outside
Stacking other than corner casting to corner casting requires substantial reinforcements
Community ordinances may prohibit and permits may not be available
The delivery fee may be substantial over long distances
The availability of contractors and craftsmen familiar with steel workmanship is limited
What to believe?
Truth vs Myth
Myth- There are an abundance of cheap used shipping containers for sale
The Steamship industry sells off aged and damaged containers to middlemen brokers who in turn add their respective costs/fees/markup/taxes to the retail market
Truth- Shipping containers make great storage facilities
The shipping container concept is easily adaptable to personal and commercial storage
Truth- Shipping containers can be coverted into dwellings
Single and multi-level dwellings are common place in european countries, militaries and industries
Myth- Modified shipping container dwellings are cheaper than conventional built dwellings
The modified steel shipping container actually is higher in cost than a constructed dwelling of comparable size
Myth- Shipping containers are discarded and not recycled or repurposed
The life of a shipping container spans steamship usage, the retail aftermarket and then metal recycling
Are you ready?
Dwelling Cost Considerations
Modifying or Remodeling per TEU (Twentyfoot Equivalent Unit)

Modifying a Shipping Container is more like Remodeling or Adding to an Existing Structure
The Cost to Remodel/Modify can be 1.5 to 2 times the Cost of TEU New Build
Realize your Cost Threshold

The overall Cost to Modify a TEU should be less than the Cost per TEU New Build
The added Modifications and Delivery may not justify the savings compared to TEU New Build
The Recycling Mindset will help you generate a Cost Threshold

"...may be cheaper overall, but a New Build makes more sense..."
"...is suffenciently cheaper overall, out-weighting a New Build..."

Foundations

Sub Structures such as Pilings, Concrete and Stairs cost the same
Positioning onto the foundation is an added cost unlike New Build
Connecting Mechanisms such as Steel Plates on top of the Piers are required

Transportaion

New Builds incorporate the shippings costs of building supplies in Price Per Square Foot
Remodeling/Modifying Costs do not include Delivery or Positioning Fees
The purchase site transportation fees increase with distance
Find a shipping container to purchase
The Search

Browse the internet
Google Maps
Craig's List
Yellow pages
Ask around
If you are in the New Orleans region, call or visit us

The Find

First, the roof- No rust or puncture holes, Domed upward
Second, the floor- No patchwork, No heavy delamination, No unknown coating, Screws secure, No uneven planks, No downward bow
Third, the doors- No rust or puncture holes, Complete door gaskets, No tight door hinges or lock rods
Lastly, the walls- No flatened corrugation, No heavy rust or paint pealing

The Purchase

Consider delivery and taxes
If purchasing more than one, ask about a reduced rate per unit
Inquire about modifications
Do not purchase a used shipping container without inspecting first
Planning
Verify

Inform neighbors of your intentions
Check with local zoning commisions

Delivery

Figure out which way you want the doors to be facing
Make sure the delivery vehicle can manuver- clearance 10ft wide and 14ft high
Make sure the ground is suitable to support the heavy delivery vehicle
Place mounting blocks during delivery
Coordinate the delivery of the lift vehicle closely with the arrival of the containers

Position

Level the container once in position to keep the doors in alignment
Consider a solid foundation to mount the container
Position where the container entrances are visible from main access roads
Realise that the door lock rod cams need clearance to swing open
Check ordinances regarding structure placement close to property lines
20ft & 40ft Dry Van Shipping Container
The 20ft Dry Van
The 40ft Dry Van
Exact Exterior Dimensions:

Width: (All) 95.875"
Height: (All) 102" or "114"
Length: (20ft) 238.50"; (40ft) 479.875"

Exact Interior Dimensions:

Width: (All) 93"
Height: (All) 82" or 94", (Door Header: 78" or 90")
Length: (20ft) 235"; (40ft) 476"

The Rectangular Steel Frame is the Core Structure

8- Cast Steel Corner Blocks
Top Rails are usually 10 gage Steel Tubing
Bottom Rails are 10 gage Shaped Steel Plate
Corner Posts are 1/4" Shaped Steel Plate
All steel components are welded together

The Panels are welded to the Core Frame

16 gage Steel Corrugated Side Panels are roll formed
16 gage Steel Corrugated Roof Panels are press formed
15 gage Steel Corrugated End Panels are also roll formed
Bottom Rails and Sub Floor Cross Members are 10 gage Shaped Steel Plate
Corner Posts are 1/4" Shaped Steel Plate

The Doors provide Static Structure and Entry

Forged Steel Hinges with hardened 1/2" Steel Pins
16 gage Steel Corrugated Panels and Tubing comprise the Doors
Galvanized Steel Lock Rod Tubes have Cam Mechanisms, Lock Handles and Mount Bearings
When closed, the Doors provide the same static reinforcement as the welded Front Panel for the Core Frame

The Floor is the Base of the Core Frame

10 gage Steel C and Z Shape Crossmembers
(20ft) 10 gage Steel Fork Lift Tunnel Crossmembers
(40ft) 1/4" Steel Gooseneck Tunnel at Front End
21ply or 1.125" thick Treated Plywood
The Tank Frame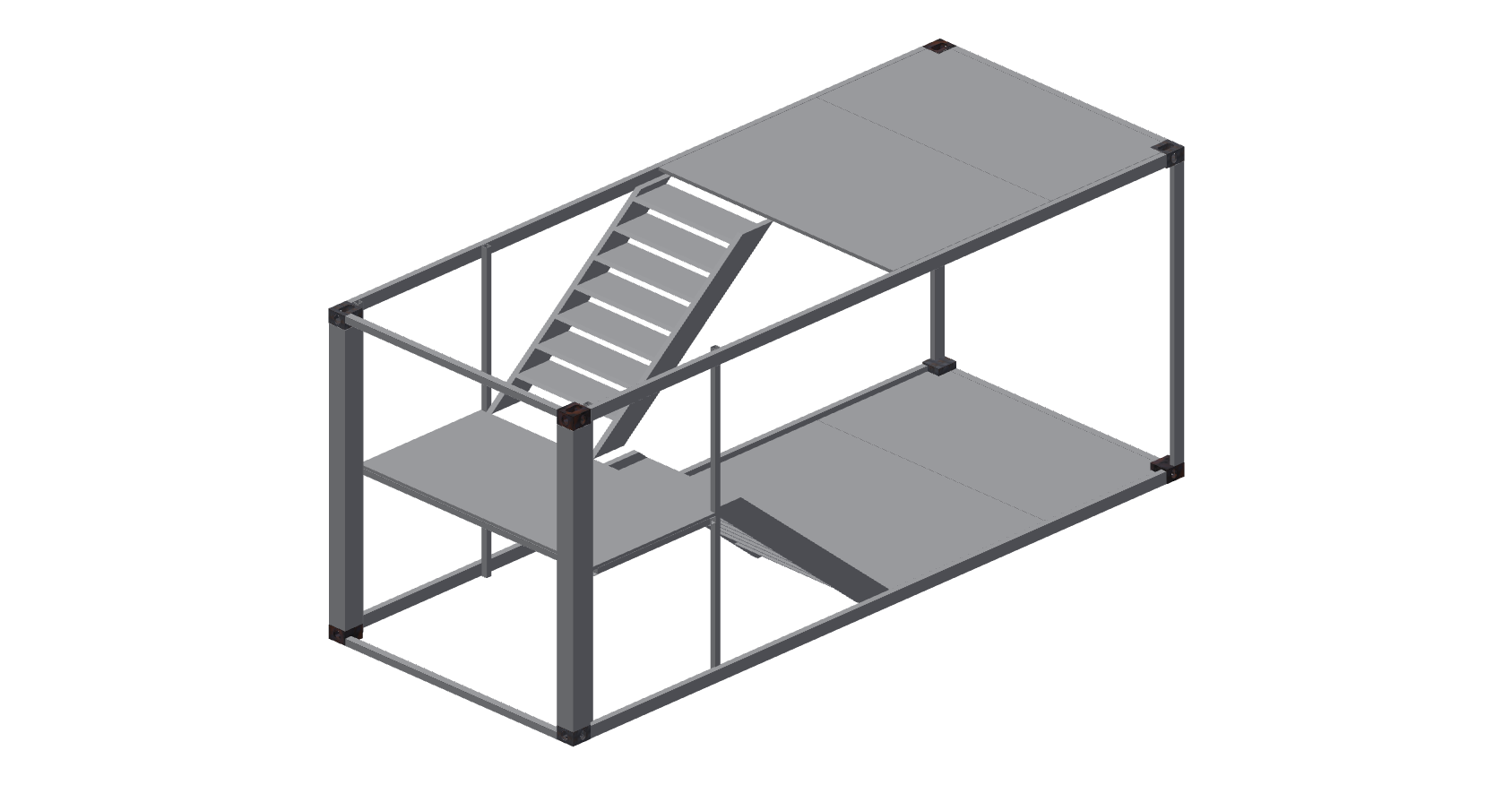 The Basic Core Frame

20ft x 8ft x (8.5ft or 9.5ft)
Loaded and Shipped like a shipping container

Outfitted with a stairwell

End rails allow the door cams to swing open unimpeded
Side Corner Posts allow doors to swing to parallel
Skirt Adaptor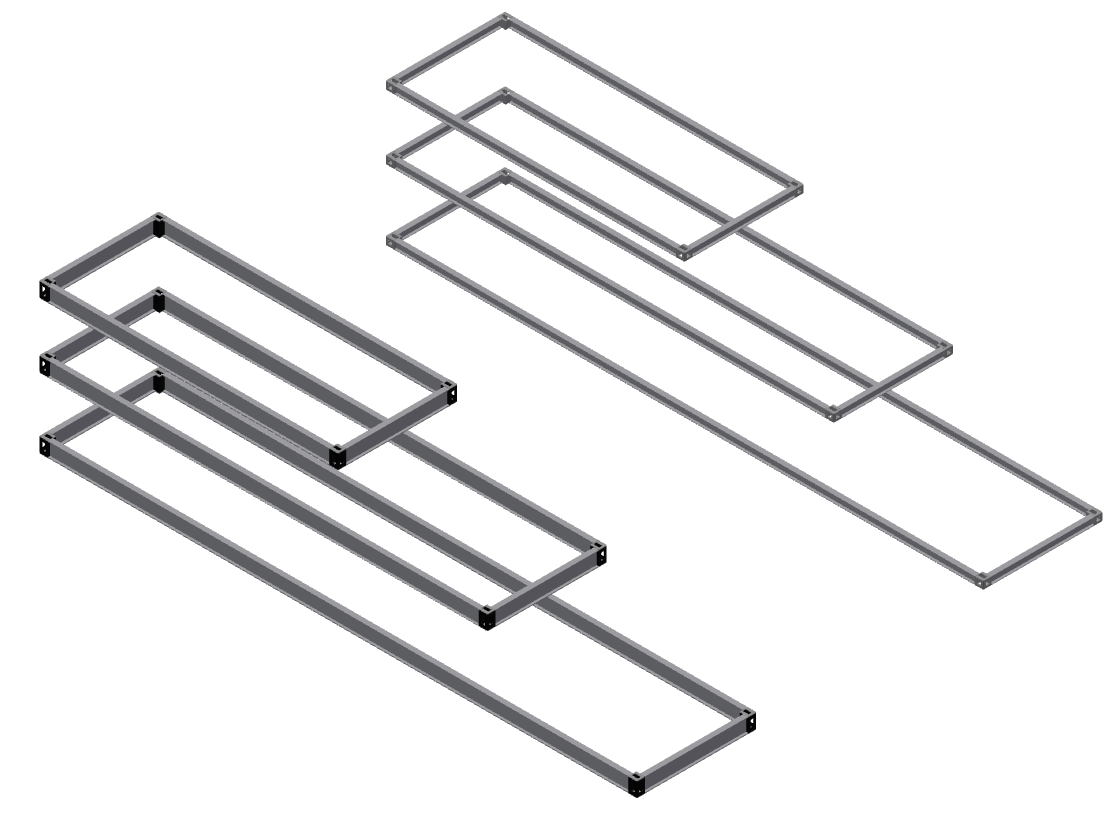 6" or 12" High by 20ft, 30ft or 40ft Long
Uses:

Mounting Platform
Stacking
Decking
Juxtaposing

Sub-Floor or Ceiling Plumbing, Venting, etc.
Corner Casting Lock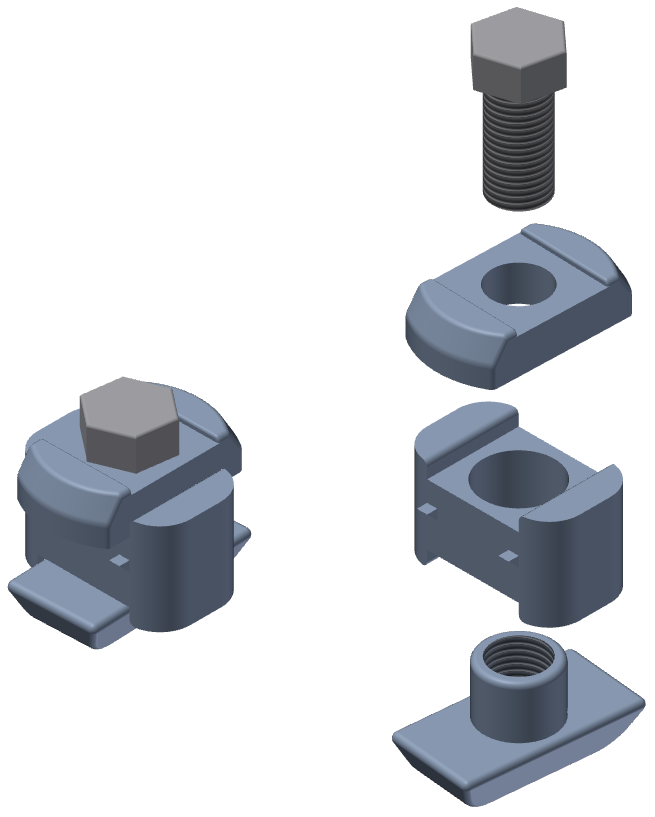 Universal Lock
Connecting Uses:

Container to Container
Container to Skirt
Skirt to Skirt

Once tightened, welding is also an option
Base Mount
Base Mount Lock
Connecting Uses:

Metal Substrate to Container Casting
Concrete Substrate to Container Casting
Wood Substrate to Container Casting

For Steel Substrate, welding is an option
Panels
Light weight aluminum panel with neoprene self adhesive backing
Uses:

Add an insulative layer to the both the interior or exterior
Cover used/worn/damaged panels
Maintain the corrugated industrial look
Make a used container look new

Simply peel and place
Framing
Light gage steel tubing

1.5" x 3" x 16ga for side and roof panel
2" x 2" x 16ga for front end panel
2" x 3" x 11ga for container to container openings
2" x 4" x 0.25" for structural support beams

Uses:
Foundation
Support and Structure

Helical Pilings
Helical Piling Mount Plates
Pier Mounts
20ft with Helical Piles, Slab, Piers, Skirt, Locks and Deck
20ft Slab, Piers, Skirts, Locks, Roof and Deck
20ft's Stacked, Skirts, Locks, Stairs and Deck
20ft's Stacked, Stairs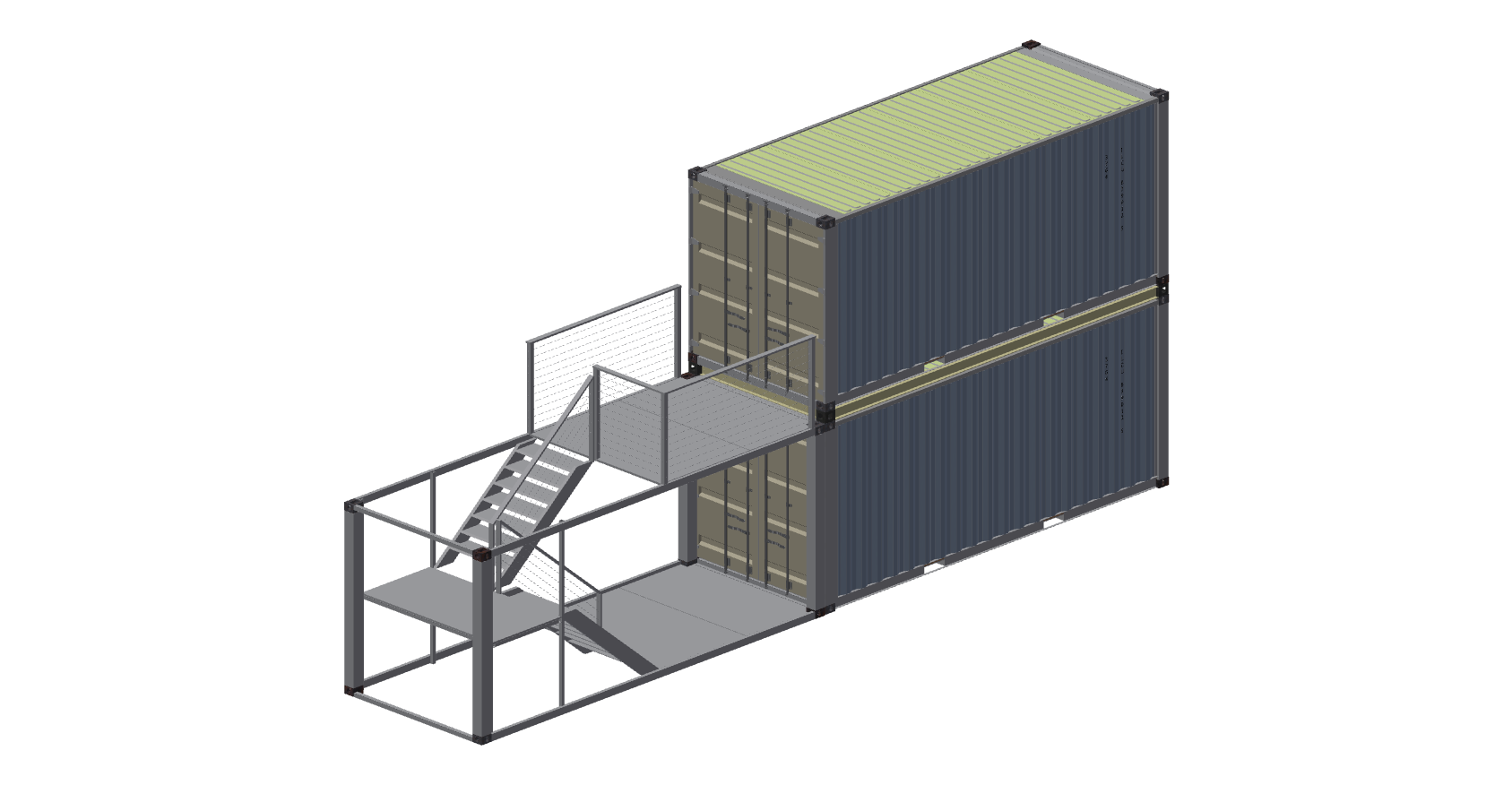 20ft's Stacked, Stairs with a side stack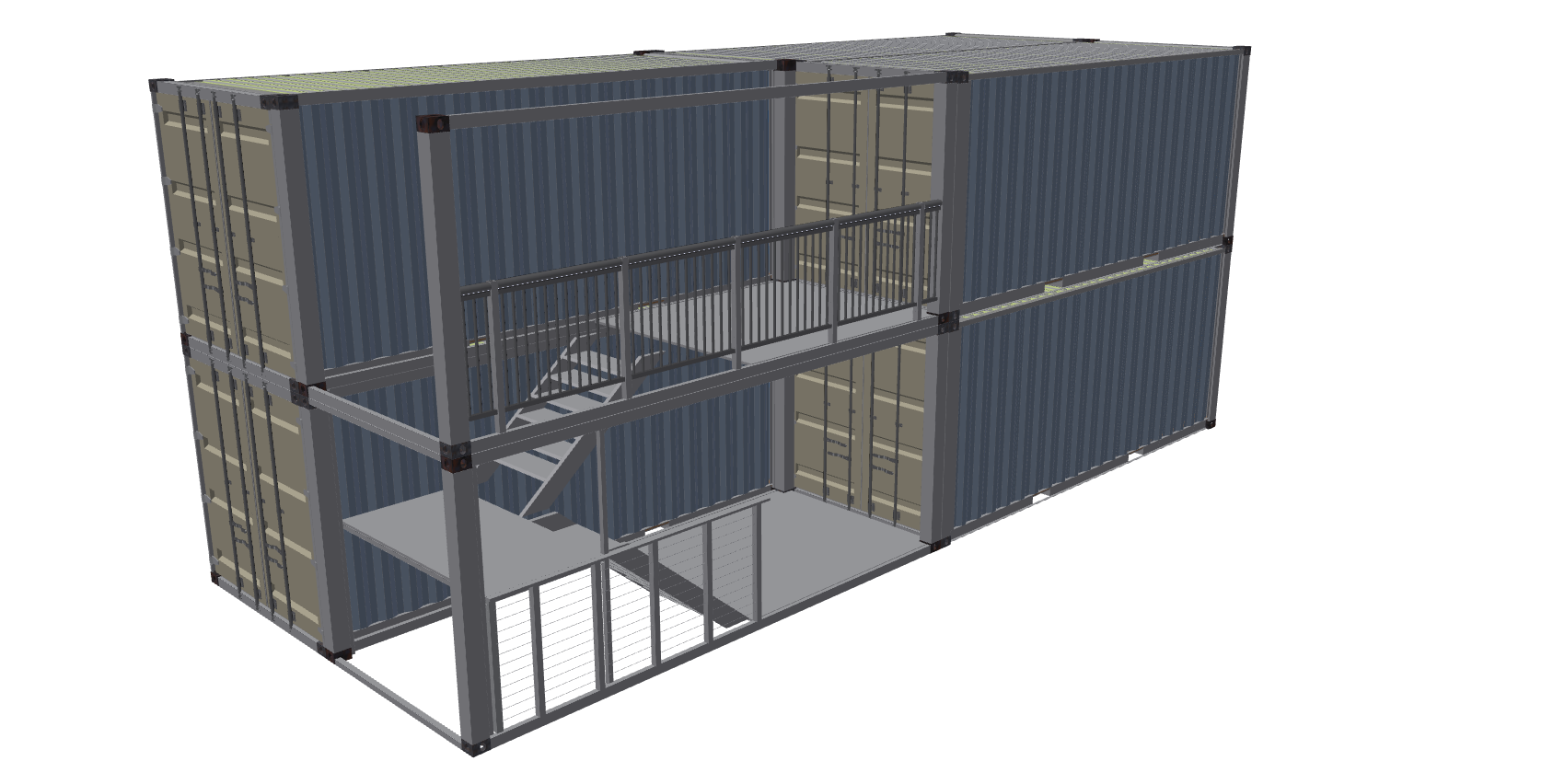 40ft's Stacked, Skirts, Locks, Stairs and Deck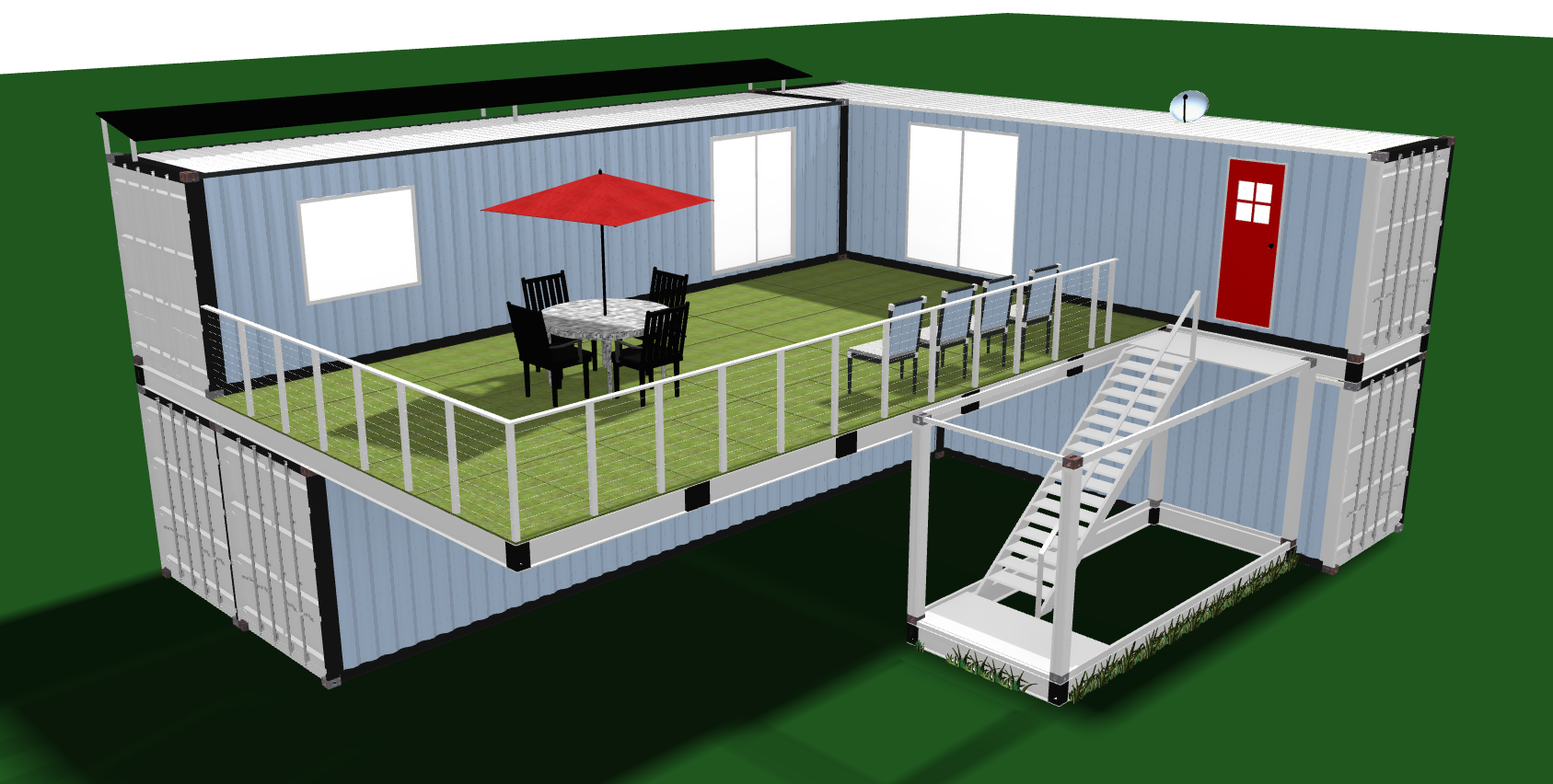 New Orleans Depot is an Off Port Shipping Container Terminal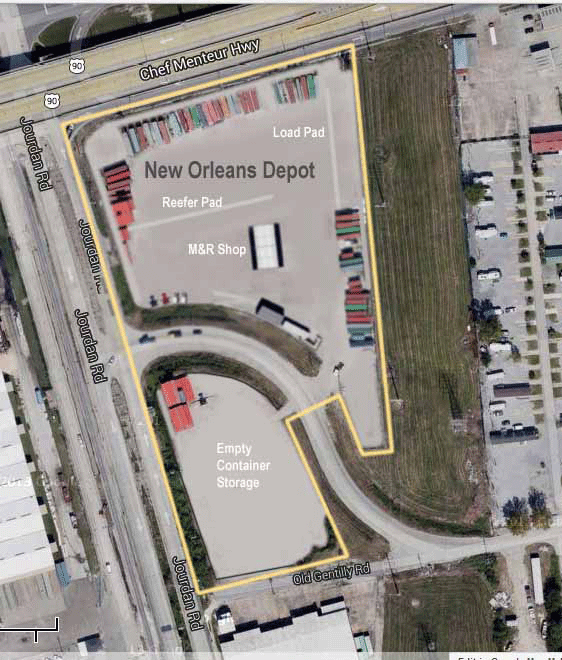 Facility

8 acres
Crushed concrete base
Two concrete load pad strips
Centralized Maintenance and Repair Facility
Large Covered/Enclosed Blasting and Painting Facility

Services

Single or Stackable Storage
Empty Shipping Container Lifting/Stacking
Gate Activity with Electronic Data updating
Staging/Positioning equipment
Maintenance and Repair
Shipping Container Sales

Equipment

Taylor Empty Container Lift- Three High
Taylor Empty Container Fork Lift
Capacity Yard Jockey
Sullaire Diesel Compressor
24 ton Sand Hopper with Blast Equipment
Graco Paint Pump with Paint Equipment
Refueling Equipment
Torch, Plasma, Welding, Compressor, Tools, Etc.

Rates

Empty Container Storage

Empty 20ft Shipping Container: $0.40/day
Empty 40ft+ Shipping Container: $0.60/day

Load (On Wheels) Storage
Empty Container Lifting
Gate Activity

$6 per inbound inspection

Or, $40 All Inclusive

Empty Storage for Three Months, $1 per day after
All Lifts
All Gate Inspection Fees

Contact Information

Phone

General/Sales: 888-310-6005
Trucking: 504-248-9895
Terminal: 504-242-6009

Email

Terminal: NODepot@nodepot.com
Trucking: KWE@evansdelivery.com
Container Sales: ContainerSales@nodepot.com

Address

Physical: 5690 Chef Menteur Hwy, New Orleans, LA 70126
Entrance: 5610 Old Gentilly Rd, New Orleans, LA 70126
Evans Delivery, NOLA is our Intermodal Agency
Evans Delivery is based in New Orleans Depot Terminal

30 Power Only Trucks
Servicing the Gulf South Region

Trucking Rates

30 miles and below: $250 + Fuel%
Above 30 miles: $1.55/mile + Fuel%
OverNight, StandBy, HazMat, OverWeight and Chassis Fees Apply

Contact

Phone: 888-310-6005 or 504-248-9895
Email: KWE@evansdelivery.com